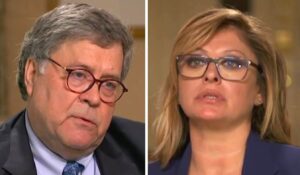 Calm, clear, and incisive, here is Attorney General William Barr answering well-formed questions from Fox News' anchor Maria Bartiromo.
In about 36 minutes total, Bartiromo and Barr cover most of the major news and political issues of June, 2020. It is well-edited, and it is worth every serious American's time to listen to this material carefully.
Of course, if you prefer interviews that turn into pugilistic shouting matches, you have many choices every day on all the networks. This one, thankfully, is different. The interview is a credit to Fox News, Ms Bartiromo, and AG Barr.
Part 1

Part 2
Part 1 Index:
00:00 Seattle under siege from "protesters" – what will you do about it?
01:54 Should the federal government step in?
02:40 What about calls to "defund the police"?
05:35 Should police have "qualified immunity"?
07:10 Does the Brooks case warrant a felony murder charge?
08:33 Is there systemic racism in our country?
09:40 Should Big Tech keep their legal protections against lawsuits?
Part 2 Index:
00:00 Are you worried about censorship and vote fraud going into the 2020 election?
02:40 How do we restore confidence in the system? Are there two standards of justice?
04:00 Why did the DOJ charge Michael Flynn and not Jim Comey and Andrew McCabe?
04:23 What do make of Judge Sullivan's behavior in the Flynn case?
05:06 What bearing does the election have on the Durham investigation? What effect has the pandemic had?
07:20 Was the Russia intrigue an actual "coup" attempt?
10:00 What about all the leaks of classified information? Will we see indictments?
11:16 Did the whole Russia investigation start with just "bar talk"?
13:15 What about John Bolton's book and classified information?
14:20 Are you doing the president's bidding?
14:55 What about Communist China behavior and US technical leadership? How important is 5G? What role does private industry play?
19:30 Would the US consider acquiring Ericsson or Nokia to compete with Huawei?
21:10 Is China exploiting the Covid crisis to "push the envelope" against America?