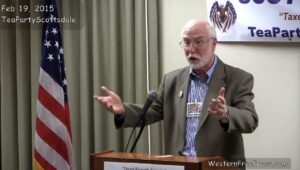 In just over 3 minutes, with his usual wit and wisdom, author and speaker Alan Korwin (gunlaws.com) answers one of the mainstream legacy media's favorite questions:
Why does anyone need an AR-15?
This video excerpt is from a full 1-hour presentation on firearms, the 2nd Amendment, and other themes. The full presentation was made at a February, 2015 meeting of the Tea Party of Scottsdale, Arizona.
This video was originally published on WesternFreePress.com, a conservative-friendly website that was active from 2010-2020.