(This article was written Dec 4, 2020. See Jan 20, 2021, *UPDATE at the bottom of the page.)
———————————————————
If President Trump "loses" the disputed 2020 election, we'll have an ideal opportunity for him to start a new political party. New parties, like the UK's Brexit, do form when voter frustration with existing parties overflows, just as it is now in America.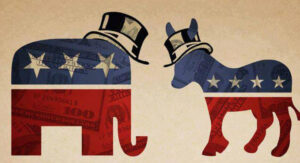 The socialists, communists, and one-world mega-donors now have their party – the Democrat Party – let them have it.
The globalists, crony-capitalists, and their oligarch donors now have their party – the Republican Party – they can keep it.
Now how about A Party for the Rest of Us? 
Mr. Trump, you pick the name — the Patriot Party, Freedom Party, MAGA Party, whatever – you're great at naming things. And while the energy and momentum from the election is still high, the time is surely right. If not now, when?
If you take on the task, you can be America's Nigel Farage. If not you, who?
Meanwhile, We the People can get started almost immediately.
As our opening salvo, tens of millions of us could send a clear message to you and the two legacy parties in a way that can't be stolen overnight the way our votes were, with fake ballots and "software glitches".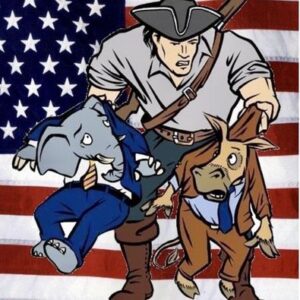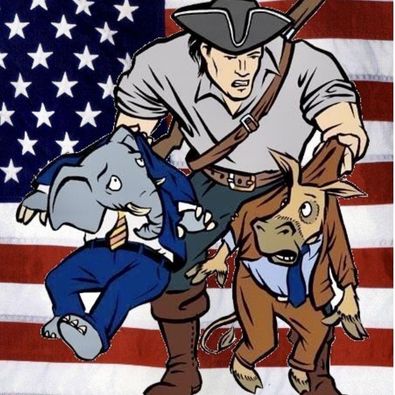 In a national tidal wave, we can begin re-registering as Independent and stand by to re-register again when you launch the Party for the Rest of Us. 
Venal Democrat and GOP leaders alike will see their registrations tumbling and likely panic. I revel at the very thought of it.
This would be our peaceful civil war of We the People vs The Swamp.
Of course it takes time, processing, lawyers, PR, stamina, and money to launch a new national party, but if anyone could do it in record time, it's you, Mr Trump — just as you did with Operation Warp Speed. If you call on us, We the People will back you with our energy, money, and shoe leather.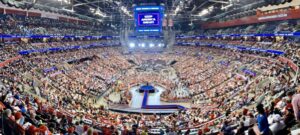 You, above all, know who we are — the tens of millions of Americans who attended and watched your rallies, including millions of disaffected Democrats.
Normally a "3rd party" might split the vote, simply weakening one of the existing parties. In this case, however, the new party would draw people from both legacy parties, just as your rallies did, and just as Nigel Farage's Brexit Party did in the UK. Just four months after its foundation, Brexit won the largest share of the national vote. That shows what a charismatic leader and voter passion can do — and America now has both.
So, Mr. President, will you be a 'Moses' for us, We the People?
And along the way, will you cultivate some 'Joshuas', like a Ron DeSantis, a Josh Hawley, or a Kristi Noem, to carry on long after you're gone?
If current legal efforts to expose vote fraud succeed, it's still possible you'll get a second term. We the People certainly hope that happens. It would give us more time for a clean start on a new party. But the corruption in the established parties now runs so deep, we'll need the new party nonetheless, and you'd be the ideal founder/leader for it, whether it launches in 2021 or 2025.
Mr. President, please launch a Political Party for the Rest of Us!
*UPDATE – Jan 20, 2021: (Former) President Trump may indeed be thinking along these lines! See short WSJ article at this link, and Steve Turley video at this link.